Self Managing your investment property?? Please don't do it!!
Posted by The InvestRent Team on 27 January 2017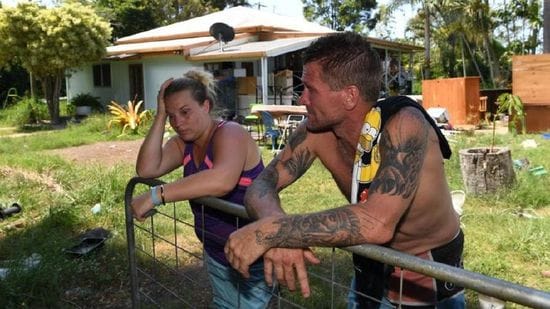 Landlord's nightmare: Maggots, faeces and garbage
AS FLIES swarm and a pungent stench fills the air, a tearful Amanda Rehbein wonders where she went wrong.
Responding to an ad on Gumtree about five months ago, the Bundaberg woman thought she'd give a family a go by letting them rent her Sharon home.
"Because they had a bigger family I felt sorry for them," she said.
Miss Rehbein said she'd owned the home since 2003, but decided to rent it out because she wanted to go "out west" for work.
The Bundaberg NewsMailreports that when Miss Rehbein and her partner Greg Snell arrived with their belongings ready to move back in, they were confronted with rubbish, maggots and faeces festering in the heat.
"I was absolutely dumbfounded," Miss Rehbein said.
"The people unloading our belongings didn't want to unload them."
Rubbish, animal cages and broken glass are all through the yard.
The home's garage bears the marks and smell left from countless clumps of faeces which had dried on the floor, while the rest wasn't picked up and remains a job for the couple.
"I reckon I'll have to acid wash the whole thing," Mr Snell said.
The couple's furniture and boxes have been left sitting on the yard and veranda because the home and garage are just too filthy.
"We thought we'd go out west to make a life and make some money," Miss Rehbein said.
"Now I'm at breaking point seeing my family home where I raised my kids like this."
Mr Snell said it would easily cost them between $5000 and $10,000 to get it back to a liveable standard.
"There is literally weeks of cleaning to do," he said, adding that they'd already spent $60 just on products to try and kill the maggots crawling from the garbage.
Mr Snell said the couple was faced with having to find another place to live while the painstaking clean-up got under way.
"Where do we live now?," he said.
"I'll have to stay somewhere else," Miss Rehbein said.
"These people are just horrible, I just don't know where to start.
"I just don't even want to be here that's how I feel."
Miss Rehbein said she the new carpets in the home now needed ripping out, but she was forced to make do with getting them cleaned.
"I don't have $4000 to pay for new carpets," she said.
"Nothing was done, nothing was cleaned, the bins weren't even on the road.
"Thousands and thousands of dollars we're out of pocket."
Mr Snell said he believed there was about 60 cubic metres of garbage that would need to be removed.
Miss Rehbein said she wanted to warn others to be careful.
"Don't go private," she said.
The former tenant contacted the NewsMail to say they were going to clean the house but the lease was broken early and they ran out of time.
They said the time for them to move out had been moved from February 10 to January 15 which caused them to leave in a hurry.
Please if you are renting your property privately or thinking about it - reconsider!! Privately managed properties cause more money and harm than good! Call us today on 0755994311 if you are reconsidering your investment property's needs.

Author:
The InvestRent Team