The Art Of Giving It Away
Posted by Sharon Styman on 1 July 2016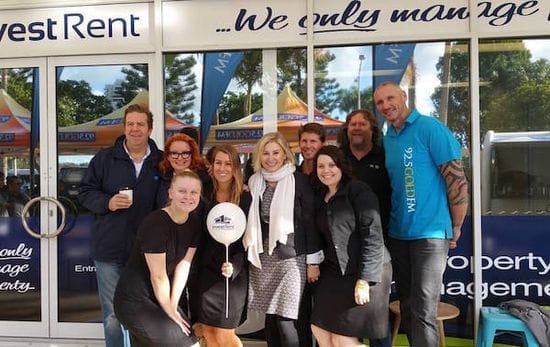 In June we helped to raise over $15,000 to give away to a well needed and deserving cause, the local children's hospital. We all know there are a lot of charities that need our support and Australia is built on volunteers with deep pockets; it's what makes us as a country so proud.
Well, proud is how we felt here at InvestRent last week, when we saw our local radio station pull up out front of our office to broadcast their brekky show. Yes, we had won it with a pretty hefty bid, but what moved us even more, was the level of support that came flooding in throughout their broadcast and even after they had moved on.
During the morning we had well over 40 people call in to donate to the charity 'Give Me 5 For Kids'. There were truck drivers, delivery drivers, butchers and school kids. What they gave varied from $20 to $1000. It was overwhelming to watch and be proudly part of. It's that special feeling of community - when people you know and don't know come together and remind each of us of the real spirit of why we do anything. Why we do anything at all, is to ultimately help others who may benefit. Whether it's your cousin who is sick, a friend having a struggle, a mate who needs a hand. It doesn't matter what the problem, a problem shared is a problem halved.
The stand out for me is recognising a diverse community coming together to help each other; strangers with a common value.
It's one of the reasons why the Directors here started InvestRent. We heard over and over how the management of people's rentals were poorly done. A general apathy and lack of detail concern for the value of a rental return and all the stakeholders involved. In short, we wanted to create a community of like minds and help build value to their portfolios.
So our aim is give the ultimate service as well as maintaining the current and relevant legislative standards. Too often we have seen the standards slip and owners missing out, or worse, being left open to being liable for some negligence that was at no fault of the owner at all.
We want to address those real and common issues, for owners and tenants alike; we want to help connect with people and with a cause to help.
That's why we wanted Gold FM to broadcast at our office, to help someone in need. $80,000 + was the figure raised for the month of June and all proceeds go to the children's Tweed and Gold Coast Hospital - a tremendous outcome.
And that's what we want to see - tremendous outcomes. We'll do this by contributing to a bigger cause and helping others, we'll be staying true to our core values and those that drive us here at InvestRent. We are excited and we look forward to connecting, growing and providing more benefits to our community.
Thanks
Sharon

Author:
Sharon Styman
About: Head of Operations